MANUFACTURING
U.S. T-Shirt Factory Receives GOTS Certification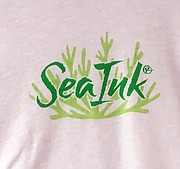 Sundog Productions, a 25-year-old apparel manufacturer in Fairfax, Va., recently was certified as a fully integrated GOTS factory by the Global Organic Textile Standard.
The supply chain for Sundog Productions' GOTS-certified products is fully transparent from cotton field to finished garment, according to the company.
Furthermore, the GOTS certification ensures that the company uses no toxic inputs and its textiles are pesticide-free, not made with genetically modified materials and not finished with formaldehyde, chlorine bleach, heavy metals or other environmentally hazardous chemicals.
The company's 40,000-square-foot facility has solar panels and a geothermal heat-reclamation system to reduce its energy usage and carbon footprint. Sundog cuts, sews, garment dyes, tie-dyes and embroiders in-house. The company also offers a proprietary printing and softening process called Sea Ink, which was developed by Sundog Productions owner Cas Shiver. Using inks made from seaweed, Sea Ink printing uses no PVC, binders, resins or harmful chemicals. The dyes create a permanent bond with the fabric to create a graphic with a soft hand that won't run or crack after washing.
In addition to sustainable production methods, Sundog Productions also participates in a number of socially responsible programs, including jail work release and on-site job-training programs.
"We are the only integrated GOTS factory in the U.S. today and pride ourselves as being green and socially conscious," said Owen Zibrak, vice president of product development, adding that the company hopes to be a one-stop source for sustainable product as well as a model for American manufacturing.
Article courtesy of Apparel News.
Sundog uses approximately 20,000 gallons of water per day making tie dye t-shirts and we wanted to find a way to make that more eco-friendly. After 25 years of innovation and thinking outside of the box CAS Shiver – the owner and Top Dog at Sundog Productions had a plan.
It's important to understand the dilemma Sundog was facing: In order to properly rinse the excess dye out of the fabric after curing the shirts, the water needs to be approximately 180 degrees. This water arrives at the factory in Fairfax, Virginia via underground pipes that keep it at a steady 53 degrees. Previously we would heat this water conventionally using natural gas boilers. Now, using geo-thermal exchanges and the process described below, Sundog dramatically reduced it's carbon footprint:


Steps to heat the Sundog water:
1. Fresh water arrives at the Sundog Productions factory via the Fairfax water supply at a constant 53 degrees. The first step in heating the water is actually dual purpose; heating the water while cooling the factory. The system is designed that the water flows from the front of the building to the back through a series of smaller tubes and radiators. As the water flows through the building it will absorb ambient heat from the air in the factory, which is considerably hotter than average, due to the screen-printing dryers used to cure the ink used for printing the t-shirts. These dryers are running at approximately 350 degrees. Although this process will not raise the water temperature by much, it begins the process. The more important step is to help lower the air temperature and dehumidify the building without any effect on the environment.
2. This fresh water then travels through coils of stainless steel tubing submerged in a 3000-gallon discharge tank, which has collected the hot used water discharged from our laundry facility. This water is approximately 150-170 degrees. The fresh water contained in the coils is then heated to approximately 90-100 degrees through this process.
3. Our fresh city water has now been pre-heated, and ready for the next phase, which is made possible by the SUN! Sundog installed 600 solar tubes on the roof of our factory to capture the radiant heat of the sun. This energy is used in a collection tank in our building. The fresh water continues its journey through coils of stainless steel tubing installed in the tank absorbing the heat and continuing the heating process. At this point the water is now approximately 120-160 degrees and we haven't used one BTU of energy to achieve this temperature.
4. The final leg of the journey is through our natural gas burner, which fully heats the water to the necessary 180 degrees and is then held within insulated tanks to preserve the heat until the water is used.
Because Sundog uses this "GREEN" process to heat its water, the company estimates that it avoids CO2 production of about 80 tons a year. Jack Levenson, development director from Amidus, a clean energy company headquartered in Maryland, headed the solar installation. He explained the savings to be equivalent to "an annual planting of over 20 acres of forest or over 300 cars being taken off the road." The new facility saves 3.75 million British thermal units (Btu's) per day by focusing on GREEN and sustainable solutions. This will "reduce our carbon footprint through the use of geothermal and solar energy systems and eco-friendly dyes," – CAS Shiver, Owner & Top Dog.
FREE Fourth of July T-Shirt Giveaway Sweepstakes
Four (4) Winners will receive one (1) Sundog t-shirt – they will have a choice of New Glory or Red, Wild & Blue (YS – YL or S – XX)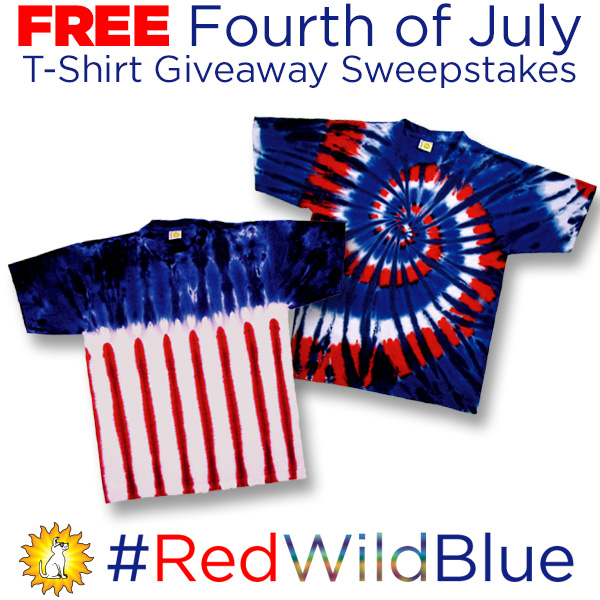 NO PURCHASE NECESSARY TO ENTER OR WIN. 
SPONSOR: The "FREE Fourth of July T-Shirt Giveaway Sweepstakes " ("Sweepstakes") is sponsored by Sundog Productions ("Sponsor"), 3850 Jermantown Rd., Fairfax, VA 22030
HOW TO ENTER: 
FACEBOOK | 1. Like the contest post and the Sundog page. 2. Tag your friends in a comment below so they can enter -or- comment on what you love about the Fourth of July
INSTGRAM | 1. Follow Sundogtees and Like the post. 2. Tag your friends in a comment below so they can enter -or- comment on what you love about the Fourth of July -or – repost to your page and tag Sundogtees and use the hashtag #RedWildBlue
TWITTER |  1. Follow Sundogtees and Like the post. 2. Retweet #RedWildBlue & tag your friends so they can enter -or- reply with what you love about the Fourth of July
ELIGIBILITY: The Sweepstakes is open to all legal residents of the 50 United States and Washington, DC (together, the "Eligible Jurisdictions") who are 18 years of age and older by 6/24/2016. Employees, officers and directors of Sponsor and its parent companies, subsidiaries, affiliates, partners, advertising and promotion agencies, manufacturers or distributors of Sweepstakes materials and their immediate families (parents, children, siblings, spouse) or members of the same household (whether related or not) of such employees/officers/directors are not eligible to enter. Offer void outside the Eligible Jurisdictions and wherever prohibited, taxed or restricted by law. All federal, state, provincial and local laws and regulations apply.
Each entrant in the Sweepstakes must be the rightful owner or have authorized use of the email account indicated by the entrant's email address. In the event of a dispute concerning the identity of entrant, entry will be declared made by the authorized account holder of the email address submitted at time of entry. "Authorized Account Holder" is defined as the natural person who is assigned an email address by an Internet access provider, online service provider, or other organization (e.g., business, educational, institution, etc.) responsible for assigning email addresses for the domain associated with the submitted email address. Any potential winner may be requested to provide Sponsor with proof that such winner is the authorized account holder of the email address associated with the winning entry.
ENTRY PERIOD: Sweepstakes begins when posted on June 24, 2016 and ends at 11:59 PM ET on June 29, 2016.
SELECTION AND NOTIFICATION OF WINNERS: The potential winners will be selected by random from all the eligible entries received by 11:59 PM ET on June 29, 2016 Odds of winning depend on the number of eligible entrants. By entering the Sweepstakes, each entrant fully and unconditionally agrees to be bound by these rules and the decisions of Sponsor which will be final and binding in all matters relating to the Sweepstakes. Potential winners will be notified via Facebook/Instagram/Twitter on Thursday June 30. If winner does not respond to our Facebook message within 5 business days or if prize or prize notification is returned as undeliverable, if potential winner rejects his/her prize or in the event of noncompliance with these Sweepstakes rules and requirements, such prize will be forfeited and an alternate winner will be selected from all remaining eligible entries. Upon prize forfeiture, no compensation will be given.
If due to a printing, production or other error, more prizes are claimed than are intended to be awarded, the intended prize will be awarded in a random drawing from among all verified and validated prize claims received. In no event will more than the stated number of prizes be awarded.
PRIZES
Four (4) Winners will receive one (1) Sundog t-shirt – they will have a choice of New Glory or Red, Wild & Blue (YS – YL or S – XX)
This prize is provided to you by the Sponsor.
Approximate retail value of prize: $ 20 USD
Prize is non-transferrable and cannot be sold or redeemed for cash. In the case of unavailability of prize, Sponsor reserves the right to substitute a prize of equal or greater value.
CONDITIONS
By participating, each entrant agrees to be bound by these Official Rules and the results of the random selection of the winner(s), which shall be final, and waives any right to claim ambiguity in the Sweepstakes and/or these Official Rules. All federal, state, provincial and local tax liabilities and unspecified expenses arising from this Sweepstakes will be the sole responsibility of the winner. Acceptance of prize constitutes permission to use the winner's name, likeness, picture, portrait, voice, biography, address (city and state/province), statements and prize won for purposes of advertising, promotion and publicity without additional notice or compensation, except where prohibited and/or restricted by law.
Each entrant shall release, discharge, and hold harmless Sponsor and its parents, affiliates, subsidiaries, successors, assigns, attorneys, representatives and agents, including advertising, promotion and fulfillment agencies, employees, officers and directors (collectively, the "Sweepstakes Entities") from any and all liabilities, loss, harm, injury, cost, expense, and damages arising from the administration of the Sweepstakes, entrant's participation in the Sweepstakes (including without limitation travel to any Sweepstakes-related activity) and/or the use or misuse of any prize received in this Sweepstakes, including, without limitation, the following: (i) late, lost, incomplete, delayed, misdirected, technically corrupted or unintelligible entries, (ii) any printing, typographical, administrative or technological errors in any materials associated with the Sweepstakes, (iii) any damage to the entrant's computer, related equipment, data files, or software resulting from the entrant's downloading of information regarding the Sweepstakes or participation in the Sweepstakes, (iv) any problems or technical malfunction of any telephone network or lines, computer online systems, servers, or providers, computer equipment, software, failure of any e-mail or other electronic communication or entry to be received by Sponsor on account of technical problems or traffic congestion on the Internet or at any web site, any combination thereof, or otherwise, including any injury or damage to entrant's or any other person's computer, website, blog site, or other Internet or computer site related to or resulting from participation or downloading any materials in connection with the Sweepstakes; (v) unauthorized human intervention, traffic congestion, incomplete or inaccurate capture of entry information (regardless of cause) or failed, incomplete, garbled, jumbled or delayed computer transmissions which may limit one's ability to enter the Sweepstakes; (vi) property damage, personal injury and/or death; and (vii) any claims based on publicity rights, defamation or invasion of privacy and merchandise delivery.
Sponsor is not responsible if Sweepstakes cannot take place or if the prize cannot be awarded due to cancellations, delays or interruptions due to acts of God, acts of war, natural disasters, weather or acts of terrorism. Entrants who do not comply with these Official Rules, or attempt to interfere with this Sweepstakes in any way shall be disqualified.
Sponsor reserves the right, in its sole discretion, to modify, cancel, extend or suspend this Sweepstakes should a virus, bug, computer problem, non-authorized human intervention, fraud or other causes beyond Sponsor's control corrupt the administration, security or proper operation of the Sweepstakes. In such case, Sponsor may select the winner(s) from all eligible entries received prior to and/or after (if appropriate) the action taken by Sponsor. Sponsor may prohibit an entrant from participating in the Sweepstakes or winning a prize if, in its sole discretion, it determines that entrant is attempting to undermine the legitimate operation of the Sweepstakes by cheating, hacking or employing other unfair practices or by abusing other entrants or the representatives of Sponsor.
ANY ATTEMPT BY AN ENTRANT TO DELIBERATELY DAMAGE ANY WEBSITE ASSOCIATED WITH THE SWEEPSTAKES OR UNDERMINE THE OPERATION OF THE SWEEPSTAKES MAY BE IN VIOLATION OF CRIMINAL AND CIVIL LAWS, AND, IN SUCH EVENT, SPONSOR RESERVES THE RIGHT TO PURSUE ITS REMEDIES AND DAMAGES (INCLUDING COSTS AND ATTORNEY'S FEES) TO THE FULLEST EXTENT OF THE LAW.
IN NO EVENT WILL THE SWEEPSTAKES ENTITIES BE RESPONSIBLE OR LIABLE FOR ANY DAMAGES OR LOSSES OF ANY KIND, INCLUDING DIRECT, INDIRECT, INCIDENTAL, CONSEQUENTIAL OR PUNITIVE DAMAGES ARISING OUT OF YOUR ACCESS TO AND USE OF SPONSOR'S WEBSITE AND/OR THE SWEEPSTAKES, DOWNLOADING FROM AND/OR PRINTING MATERIAL DOWNLOADED FROM ANY WEBSITES ASSOCIATED WITH THE SWEEPSTAKES. WITHOUT LIMITING THE FOREGOING, THIS SWEEPSTAKES AND ALL PRIZES ARE PROVIDED "AS IS" WITHOUT WARRANTY OF ANY KIND, EITHER EXPRESS OR IMPLIED, INCLUDING BUT NOT LIMITED TO, THE IMPLIED WARRANTIES OF MERCHANTABILITY, FITNESS FOR A PARTICULAR PURPOSE OR NON-INFRINGEMENT.
Any dispute arising from the Sweepstakes will be determined according to the laws of the State of Virginia, without reference to its conflict of laws principles, and the entrants consent to the personal jurisdiction of the State and Federal Courts located in the State and County of  Virginia and agree that such courts have exclusive jurisdiction over all such disputes.
If you have any problems entering this Sweepstakes or have questions about this Sweepstakes, please e-mail marketing@sunpup.com
Here's a list of ideas on how to use screen printed or embroidered custom shirts. Whether it's your logo or a custom design, there are many ways to use a printed shirt. For a big or small event custom shirts are a great way to show your support, celebrate an event, bring people together or get your message out.
• Branding & Marketing
• Employee or Customer Appreciation Gifts
• Giveaways
• Volunteer Gifts
• Conferences, Retreats or Expo's
• Retail – Start Your Own Line
• Schools – Class of…, Spirit wear, Clubs, Sports, Teams
• Recreational Sports – Youth & Adult
• Supporting a Cause or a Fundraiser
• Family, School or Group Reunions
• Races & Sporting Events
• Any Special Occasion or Gathering
Let's get started creating your one of a kind shirt? You can send us your design or logo or we can create one for you.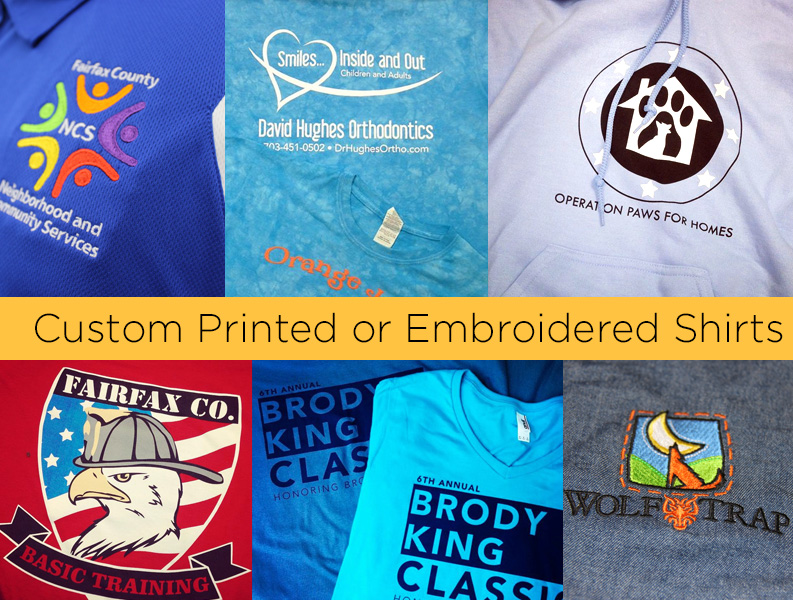 When it comes to T-shirts, Sundog Productions tries to stay one step ahead of the game. As the burnout look continues to make a splash in the fashion T-shirt world, finding ways to make your burnout a standout is no easy task. That's where Sundog comes in with its custom burnout T-shirt patterns.
Traditional burnout tees are made from rolls of uniform burnout fabric with a random splotchy design that's set before they leave the factory. But Sundog's new process removes the random, allowing employees to give poly/cotton blends a unique burnout design.
"We create artwork in the same way we would for screen printing a one-color print," says John Sague, director of sales, "and then we apply our burnout formula to the shirt using screen-printing equipment." After the formula has been applied, the garment is cured in a dryer, completing the process. Sundog's new method means that companies can order a fashionable tee with their logo burned directly into the fabric rather than merely printed on premade burnout material.
But Sundog's innovations don't stop there.
"Our newest thing is that we can actually color the burnout portion of the tee as well," Sague says, adding that the market for it is already brimming. "We recently did a navy blue tee and colored the burnout portion orange for the University of Virginia." Two-tone burnout designs may appeal to schools with fashion-forward students, or to sports fans who want to show spirit in style.
Sague also sees the new technique as beneficial for the industry as a whole. By burning out and mass-producing tees with generic designs like peace signs, hearts or music notes, Sundog will be able to offer various organizations a fashionable themed tee that they can screen print with their name or logo. "Whatever the customer is looking for," he says, "we can now pretty much do it."
And Sundog is more than a one-trick puppy. The decorator also has developed Sea-Ink, where it substitutes a seaweed-based substance that molecularly bonds to the fabric for the glue normally found in dyes. The resulting screen-printed garments won't feel tacky to the touch or fade with washing. Says Sague, "We're always looking to try new things."
– Haley Miller (Wearables Magazine)
We all have at least 20 t-shirts, some of us many, many more. Do we really need or want another one?
YES!! And here's why. For most of us, each shirt has a meaning or a memory associated with it. We even save our t-shirts and turn them into quilts.
I am a t-shirt junkie and a runner – so I have about 50 shirts at any given time – and I wear all of them. All of my shirts have meaning to me, and most of them evoke some sort of emotion or memory when I wear them.



The ones I cherish the most are my SIDS and Brisan shirts. After my son Brisan died of SIDS in 2004 I had events called Brisan's Bash to raise money and awareness for SIDS research and outreach. For each of these events I had t-shirts printed and everyone that attended received one. This was important to me because I knew there would be hundreds of shirts out there with Brisans name and logo on it, which for me, kept his memory alive. In addition each of these shirts displayed the message to END SIDS, which raised awareness and gave family and friends a way to support me during a time when they felt helpless.
Since the first Brisan's Bash I have had four additional fundraising events and have run three 200-mile relay races in his memory. I had shirts printed for each of these events and each time I see someone wearing one (which is quite often) and when I wear mine (which is at least once if not twice a week), I feel connected to my son and blessed by all the support of my family and friends. These events and these shirts continue to raise awareness and funds for SIDS research.
For me raising awareness and money is a big reason for my large t-shirt collection. My father has Parkinson's and he is also the one who introduced me to running. I wear my HOPE shirt on my runs a lot – it motivates me to run when I don't feel like it or to find the strength when I feel like I just can't take another step. It's more than just a printed shirt – it's my motivation, it's a billboard to help get a message out and it's a way to feel connected to others. When hundreds or thousands of people wear the same shirt with the same message – we are all connected and come together for specific cause or event or celebration.
Feeling like a part of a group or "tribe" is another reason we love our t-shirts. I have run so many races from 5K's to 200 Mile relays that I've lost count – but I have most, if not all, of the shirts from these events. They each evoke a different memory and feeling each time I wear them and a sense of pride that I belong to the "tribe" called RUNNERS. I am a runner and I love being a part of that group.
Most of my favorite shirts I no longer even wear, because I had them made into a t-shirt quilt. It's the softest and most sought after blanket in the house and a great way to wrap yourself up in memories.
So if you are contemplating whether or not to get a printed shirt for your event – DO IT! There is a lifetime of memories, meaning and motivation in that t-shirt.
#AdoptNotShop
October is National Adopt A Dog Month
And we are supporting and celebrating this great cause by teaming with the Fairfax County Animal Shelter and Operation Paws For Homes.
We will be collecting the following at Sundog during the month of October.
Paper towels
New Nylabones and Kong Toys
Leashes, collars and harnesses
Ziploc bags (gallon and quart size)
Crates and cages (all pieces and parts)
High efficiency laundry detergent
Small animal supplies
Food dishes
Flea medications
Towels
Dog and cat beds (new or gently used)
Batteries (AA, AAA)
Dawn dish washing soap
Dry cat food
Gift cards – Target, pet stores, Best Buy, Wal-mart
Timothy hay
Small and bite-size dog treats
Clay cat litter (non-clumping)
Top loading cat carriers
Can't make it by Sundog  – you can help online by purchasing items from their Amazon Wish List
Fairfax County Animal Shelter Amazon Wish List
Operation Paws For Home Amazon Wish List
In addition any animal shelters, rescue groups, SPCA or any animal welfare organization, who place a printed, dyed or embroidered apparel order with Sundog, will receive 15% OFF their order. We love our dogs here at SunDOG & proudly support all of the efforts being done by so many amazing people working to rescue dogs and find them their forever homes.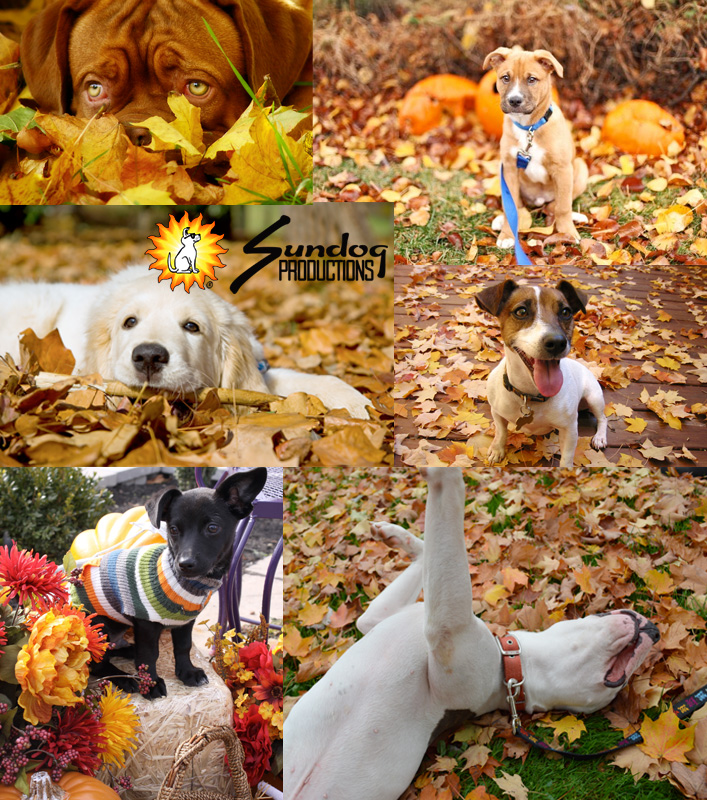 If you would like to find out more, get some pricing or get your order started – please contact John Sague -or- Michelle Winner at 703-978-0041.
Like many heroes destined for greatness, the t-shirt had humble beginnings. Originally designed to be worn beneath service uniforms and work shirts, the t-shirt quickly emerged as a stand-alone star thanks to it's light weight, low cost, and easy-to-clean demeanor. A short time later, a few enterprising advertisers began to experiment with printing logos and slogans on t-shirts, and an industry was born.
Over the decades, trends and fads have come and gone, but a handful of t-shirts designs have transcended from fad to unforgettable. They have become more than a mere t-shirt — they are true American icons. Here's a list of the 10 most iconic t-shirts of all time.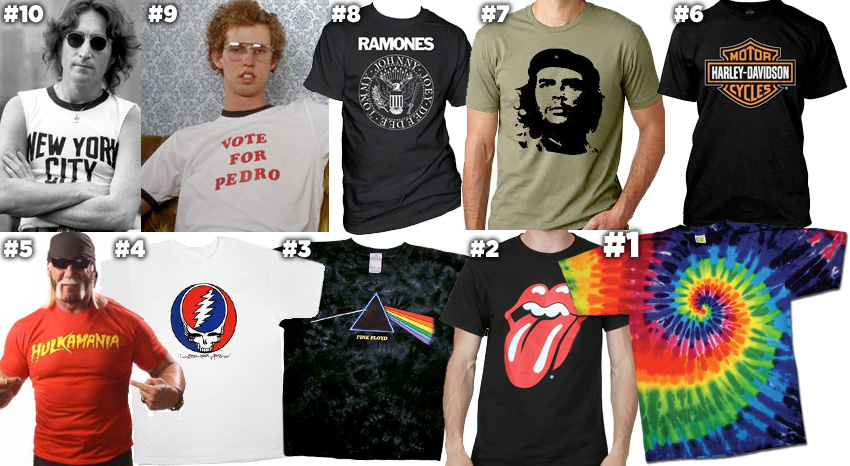 #10: John Lennon's "New York City" t-shirt.
Photographed in the summer of 1974—at a time when the government was actively attempting to deport him—Lennon stands defiant in his "New York City" tee. Cross-armed and stern, he seems to be proclaiming to the world that he was now from New York … and he wasn't going anywhere.
Nearly 40 years later, Lennon's NYC t-shirt has gone on to tour the world, and thousands like it are still produced and sold each year.
#9: Vote for Pedro from Napoleon Dynamite.
Like many artistic masterpieces, Napoleon Dynamite was best appreciated after the viewer delved past its face value. You kinda chuckle the first time you see it, and laugh hysterically by the third viewing. The climatic dance scene, in which ND lays it down to "Canned Heat" by Jamiroquai, is nothing short of classic. It's the type of scene people easily recognize even if they haven't seen the entire movie.
In terms of cultural impact, Napoleon Dynamite was a pioneer in what has come to be known as "Geek Chic." Paving the way for mainstream hits like Big Bang Theory and Glee. It helped make it okay for all of us to proudly let our freak flag fly.
The t-shirt makes our list because it is symbolic of everything that made the movie so lovable. It's somehow out of touch, yet perfectly tuned in; it's over-the-top ridiculous, and yet true to life; it's simple and understated, yet impossible to ignore.
#8: The Ramones "Presidential Seal"
Like it or not, truly immortal rock bands are often defined by the fact that their image overshadows their music. The Ramones are, without question, one such animal. Despite meager album sales, legions of musicians credit the Ramones as a principal influence. Spin Magazine even ranked the Ramones as second only to the Beatles in their countdown of the greatest rock bands of all time.
As an icon of the icons, the Ramones' "Presidential Seal" image is ripe with American aggression, reckless bravado, and copious irreverence. It fits the band perfectly. Today, their status is continually verified by the avalanche of "Seal" t-shirts sold each year. Most people may only know a couple of Ramones tunes, but everyone seems to know this shirt simply embodies cool.
#7: Che Guevara
We aren't going to lie, we know this selection is going to be more than just a little controversial. Let's face it though: no matter what your feelings about Guevara are, his stylized image has come to symbolize resistance and rebellion. People either love or loathe this shirt, and that passion is precisely what cements this shirt's iconic status in our book.
Of course, anyone who has a hard time with the romanticism of a Marxist rebel can take comfort in the fact that his image is now used to sell bikinis, cell phone covers, hats, posters, and yes, truckloads of t-shirts. Therefore fueling an abundance of the very consumer capitalism that Guevara so vehemently despised. And that, Alanis Morissette, is truly ironic.
#6: The Harley Davidson "Bar and Shield" logo
When William S. Harley and Arthur Davidson were designing their first engine—a 116cc design meant for use on a standard bicycle—they couldn't possibly have imagined what the next 110 years would bring. First came explosive growth, then WWI, the Great Depression, WWII, the challenge of globalization, faltering quality, resurgence, and so on. Indeed, Harley Davidson has endured nearly every trial and tribulation imaginable, yet through it all one thing seems to have remained constant: their rabidly loyal fan base.
Simply put, Harley Davidson has transformed from motorcycle manufacturer to lifestyle. The mere presence of their logo evokes a sense of grit, danger, and toughness. It is simultaneously traditional and rebellious, and that sounds like an icon to us.
Harley apparel has obviously branched out far beyond the original "Bar & Shield" logo. In fact, the company rakes in more than $40 million each year just in apparel sales and licensing. That said, the original, white-and-orange print is the most instantly recognizable, and therefor the one that makes our list.
#5: The Hulkamania shirt
Hulk Hogan was THE alpha dog of the WWF (or the WWE as it's known today) for most of the 80's and 90's. No matter what you thought about wrestling's legitimacy, you knew who the Hulkster was! You knew his signature catchphrases, and his signature moves, and his iconic t-shirt.
It's difficult to overstate how recognizable this shirt is. It's also hard to wear it without feeling the urge to split it down the middle with your bare hands. Seriously though, you can't sell vintage 80's tees without offering this classic in your lineup. It remains one of the best-selling t-shirts of the era.
Read on for #4 on our list! Oh and also train; say your prayers; eat your vitamins; and believe in yourself.
#4: The Grateful Dead's "Steal Your Face" T-Shirt
By now you've probably noticed that we tend to select shirts that are more about image and culture than sheer popularity. Consider something like the "I heart NY" t-shirt: It's extremely popular, but it doesn't conjure up much emotion. We would argue that today's choice is the polar opposite. It lies on the peripheral of the vast majority's awareness, but for some, it borders on the religious.
The Steal Your Face design was originally developed as a way to identify the band's equipment, which was often scattered about sprawling staging areas as it moved from one show to the next. It wasn't long before the band's fans began to recognize the insignia, and it became permanently cemented in the Dead's lexicon when the image adorned the "Steal Your Face" album in 1976.
The Grateful Dead is associated with several well know motifs and images, but this is the quintessential icon, and therefore #4 on our countdown.
#3: Pink Floyd's Dark Side of the Moon Prism
There's not much more that can be added to the volumes of material written about The Dark Side of the Moon. Perhaps the only surprising thing to say about this shirt making our countdown is that there are two shirts that managed to rank above it. After all, The Dark Side of the Moon spent a total of 741 weeks on the Billboard top 200. THAT'S MORE THAN 14 YEARS. The massively broad and timeless appeal of Dark Side sets it apart from nearly all other rock recordings ever made. It will most likely be remembered centuries from now, similarly to how works of Bach and Mozart are still referenced and familiar today. Naturally this iconic image from an even more iconic album makes for one heck of an iconic tee.
#2: The Rolling Stones "Lips and Tongue" logo.
It's true. When we first conceived of assembling the countdown, this was the first shirt that came to mind. It also was #1 on the list until we had an epiphany while fleshing out the rest of the contenders, but more on that later.
Designed in 1970 by John Pasche–who had only just graduated from the Royal College of Art–it has become one of the most recognizable images inthe world today. It has adorned untold millions of t-shirts in various configurations ranging from the basic, classic version seen here, to diamond-crusted gaudiness that would have made Liberace blush. As an icon, the image spans both generation and genre, and resides in the highest esteem of "cool" in nearly every corner of the civilized world. All-in-all, it's an icon among icons.
Wondering what could possibly top this tee? You're about to find out! Read on for the #1 tee in our countdown.
#1: (drumroll please) The Tie-Dye.
We're realists. We know that equal numbers of you will either applaud, or face-palm at this declaration. Those of you nodding your heads will require no further explanation, but if you're wondering, "what were they thinking?"… read on.
We might try to defend our choice by telling you that tie-dye's origins date back to the 5th century. Or, we could say that more tie-dyes have been sold than all other shirt on this list COMBINED. Instead, for us, it really boils down to this: the previous icons on the countdown are like snapshots of our culture. Tie-dyes, on the other hand, are iconic because of the vast history and collective cultural importance they embody. To put it another way: The others represent a person, place, or thing; and tie-dyes represent an era, lifestyle, and mindset.
It's true that tie-dyes have waxed and waned in popularity since their heyday in the 60's and 70's, yet they endure. You're just as likely to see them at a concert as a middle school field day, or family reunion. And by the looks of it, they will still be relevant for decades (perhaps even centuries) to come, which is something we're not confident saying about any of the other iconic tees we've presented.
So that's it: 10 ultra-iconic tees submitted for your review! Do you think we got it right? Feel free to comment below. Oh, and if you're looking for some truly awesome tie-dye, as well as a ton of other cool classic rock apparel, check out collections online at sunpup.com.
~ Steve Thomas
"Classy Dog"
Jack's enthusiasm was matched by everyone in the crowd as they celebrated the team finally winning their first game of the season following five straight losses.
The 45-year-old star stood out from the crowd as usual in a bold purple and blue tie dye T-shirt and a clashing camouflage print cap.
He kept his tinted sunglasses on throughout the indoor game and was very vocal in his appreciation of his team.
See the full story and all the pictures below.
http://www.dailymail.co.uk/tvshowbiz/article-2828492/Jack-Black-plants-kiss-wife-Tanya-Haden-s-cheek-cheer-sidelines-basketball-game.html
Article by Small Business Administration (SBA) – September 2014 WMADO Newsletter
Similar to many startups, Curtis A. "CAS" Shiver, founded his custom dye/screen printing business in his parents' Annandale, Virginia, garage in 1987. With a focus on the "Made in America" label, the importance of environmental sustainability and being a good corporate citizen, Sundog is a unique, full-service textile factory that manufactures from fabric to finished product.
Located in the City of Fairfax, Virginia, Shiver used a $1 million SBA 504 loan to turn his small hand-dye T-shirt company to a full service textile manufacturing operation that can churn out 3 million tie-dye T-shirts a year that are "Made in America". Clients include A-list rock bands, major theme parks and Fortune 500 companies as well as independent T-shirt shops, record stores, sports leagues, service clubs, and schools.
"The SBA 504 loan's terms were affordable," said Shiver. "I could not have bought the old Verizon Communications service depot without the $1 million fixed asset loan." He creatively retrofitted the 10,000 sq. ft. structure to his unique operation by renovating and enclosing the parking garage to create additional space for the manufacturing plant which now totals 38,600 square feet. He was able to bring a substandard 36,000 square foot building up to code, move and install all of the equipment, and only missed two days of production during the four-month move.
He focused on green and long-term sustainable solutions. Sundog has reduced the environmental impact of the plant by using recycled lighting fixtures, energy efficient windows and geothermal and solar energy systems. Having the production under one roof, shipping costs are reduced and their carbon footprint is therefore smaller. Sundog Productions qualified for and received a grant from the Commonwealth of Virginia for a solar heating system for the water used during production. It is estimated that Sundog Productions is saving 3.75 million BTUs per day by using geo-thermal and solar energy, which translates into an average savings of $1,600 per month in natural gas bills.
In addition to the plant's energy saving measure, Shiver developed and uses an eco-friendly dye for the production of T-shirts. The creation of Sundog SeaInkTM, a seaweed based printing system, which contains no PVC binders or resins, provides an eco-friendly printing system for natural fibers. He has three potential patents on this proprietary process and is pursuing all avenues. While currently under review, he expects to be the first recognized factory printing GOTS (Global Organic Textile Standard) certified products in the country. This standard is the greenest of the green and a worldwide accepted standard for manufacturing.
Sundog SeaInk contains no PVC, binders or resins. The printed graphic feels soft just like the T-shirt material. Sundog Sunburn enables logos and symbols to be etched into the material creating an image. Combined with the tie-dye or screening process, the result is a wearable piece of art.
He also developed a custom clothing iPhone App, Tie Dye Doodle, enabling consumers to design their own tie-dyed T-shirt. Sundog will produce it and ship it in two weeks; clothing on demand.
With the new, larger plant, Sundog is creating jobs for all skill levels. At present he employs 55 workers. Some of his workers have come to him from a work release opportunity from Fairfax County Adult Detention Center. In addition, Sundog has sponsored community events such as National Night Out and donated T-shirts to many community events. He is member of the Fairfax Downtown Coalition serving as chairman and continues to support the coalition. He is an advisory board member at a local bank.
He continues to innovate and look towards the future.  "Many people are creative and can see trends in fashion, but my focus has always been on execution. We know that without consistency and quality, our creativity won't sell many shirts," he said.