In the News
A collection of stories about Sundog Productions:
Sundog Productions Celebrates 25 Years in the City of Fairfax

Sundog Productions, an environmentally conscious t-shirt company located in Fairfax, Virginia, is celebrating its 25th anniversary in the city. Inspired by the colorful shirts at a Grateful Dead concert, CAS Shiver began creating and selling tie-dye shirts as a junior at Annandale High School in 1984. Shiver started the company in his father's garage and sold the t-shirts at concert venues and retail beach outlets. In 1989 he moved the company out of the garage and into a 3200 square foot space on Pickett Rd. in the City of Fairfax.
Eventually, the shirts were picked up by larger retailers, and the company has now grown into a multi-million dollar enterprise. Despite the company's growth, it is important to Shiver to remember his roots.
"We want to create unique products at attractive price points while also contributing to the local and regional communities," said Shiver.
Shiver continues to give back to the Fairfax community by offering donations and discounts to local charities. The company is also involved in a program that supports Fairfax County high school DECA (Distributive Education Clubs of America) students in research projects by providing hands-on experience in the factory.  In addition, Sundog works with the Alternative Incarceration Branch (AIB) of the Fairfax County jail. By partnering with the AIB, Sundog is able to provide a participant a job in which they are able to develop valuable work skills as they transition out of the AIB program. Several of these employees have remained on after completing the program.
In addition to contributing to the community, Sundog believes in reducing its impact on the environment. One of the products they offer is Sea-Ink. Sundog Sea-Ink is an Eco-friendly printing system that uses seaweed-based dyes to make an ink without PVC, binders, resins or harmful chemicals. This allows for an organic garment to stay organic after a print is applied to it. This proprietary process was developed by Shiver in the early 90's.
In the current location of approximately 40,000 square feet on Jermantown Rd. Sundog Productions uses solar-heated water, geo-thermal exchanges and recycled lighting fixtures to reduce costs and its impact on the environment. By developing a streamlined business model where all processes are created under one roof, Sundog has also eliminated waste in its supply chain.
About Sundog Productions:
Founded in 1987 by Fairfax native CAS Shiver, Sundog Productions is an environmentally conscious t-shirt company. The company makes customized shirts for major theme parks, A-list bands, Fortune 500 companies, restaurants, hotel & entertainment industry, local governments, fire and rescue departments, independent shops, music and specialty stores, teams, special events and schools. Sundog offers the following processes:
Custom Dyeing
Organic Dye Printing
Specialty Printing
Embroidery
Sewing Capabilities
Traditional Screen Printing
All Over and Large Printing
Resist Print Application
Burn Out Process
Tea Stain Dyeing
Ombre Dyeing
Specialty Wash
Sundog is the only Manufacturer in the City of Fairfax and one of the few Textile Manufactures still in the USA. For more information, please visit
https://www.facebook.com/SunPup
 
When will the Federal Reserve get back to normal?
By Kim Gittleson BBC business reporter, New York – 18 December 2013 Last updated at 14:35 ET
The Fed has got the timing of its pullback wrong before. "The Fed has been overly optimistic every year," says former Federal Reserve economist Joseph Gagnon. "They see green shoots every spring and then the green shoots wither."
This optimism was what led the bank to start and stop, and then start and stop, the various QE efforts over the years. But many economists now agree that while the US economy is far from perfect, it's certainly not in danger of withering once more.
Take the case of Cas Shiver. Mr Shiver (pictured) is the founder and owner of Sundog Productions, a textile manufacturing firm that specializes in custom dyeing, embroidery and screen printing.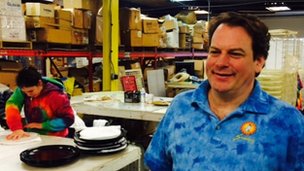 After taking advantage of several government programs to stimulate business in the wake of the 2008 recession, Mr Shiver broke ground on a new factory in 2011.
"We are noticing a recovery in the last few months," he says now, noting he's already hired one new employee and has plans to bring on more staff in January.
Stories like Mr Shiver's imply that "2014 will be the one year in which the Fed will be right," says Mr Gagnon.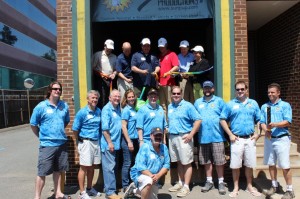 The Virginia Business Journal: Fairfax apparel maker plans to double its workforce. August, 2013
CAS Shiver doesn't want you to buy one of his company's T-shirts because it's organic. "I want you to buy it because you like it," says Shiver, founder of Sundog Productions in Fairfax. "Once you buy it, once you like it, you come back and say 'I want more,' and now I've got you, and now you're paying attention to what you're buying." The company's eco-friendly clothing line, Imagine GreenWear, produces apparel made of 100 percent organic cotton and uses seaweed-based dyes as opposed to plastic or water-based inks.  (Read More)
The Washington Post: Why "Made in the U.S.A" is still a viable model for some local manufacturers. July 15, 2013
Cas Shiver started his T-shirt business in 1986 in his parents' garage.
Thanks in part to a big boost from a 1991 contract with Ralph Lauren to produce 80,000 T-shirts and other apparel, Sundog Productions grew from a small tie-dye shop to a bustling garment-making operation that includes cutting, sewing, dyeing, embroidering and printing.
As Sundog expanded, Shiver worked to keep in Virginia the kinds of jobs that many other manufacturers had outsourced. Unsurprisingly, he repeatedly missed out on business opportunities by sticking to that principle.
"I fell on my sword all throughout the '90s with 'made in America,' and nobody cared," Shiver said. (Read More)
The Connection Newspapers: Sundog Productions Opens, Reduces Carbon Footprint. June 5, 2013
Think a "Made in America" product that features custom tie-dye, all created in an eco-friendly way is too good to be true?
Sundog Productions has it all and recently celebrated the grand opening of its 40,000-square-foot facility on Saturday, June 1. Located at 3850 Jermantown Road, Sundog Productions is the only manufacturing facility on the East Coast to adopt a method of green energy that powers the entire production process all under one roof. By using solar energy, the company estimates that it avoids CO2 production of about 80 tons a year. Jack Levenson, development director from Amidus, a clean energy comp  any headquartered in Maryland, headed the solar installation. He explained the savings to be equivalent to "an annual planting of over 20 acres of forest or over 300 cars being taken off the road." The new facility saves 3.75 million British thermal units (Btu's) per day by focusing on green and sustainable solutions. This will "reduce its carbon footprint through the use of geothermal and solar energy systems and eco-friendly dyes," said CAS Shiver, founder of Sundog Productions. (Read More)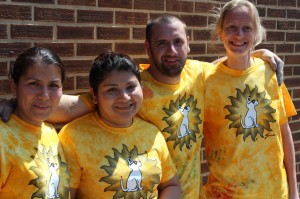 The Connection Newspapers: Sundog Productons Expands in Fairfax. May 29, 2013
Sundog Productions, which has been creating custom tie-dye and screen-printed "wearable art" for more than 20 years in the City of Fairfax, announced Tuesday, May 28, the grand opening of its new 40,000-square-foot facility on Saturday, June 1, 2013, 11 a.m. at 3850 Jermantown Road.
The facility is the only manufacturing plant in the region using green energy to power its production process and eco-friendly dye to produce its t-shirts.
"As part of our commitment to the environment, focusing on green and sustainable solutions, our new facility in the City of Fairfax will reduce its carbon footprint through the use of geo-thermal and solar energy systems and eco-friendly dyes," said CAS Shiver, Sundog Productions founder. (Read More)
 The Virginia Business Journal: Sundog Productions relocates to new 40,000 Sq Ft plant
People don't usually associate textiles with Northern Virginia, Virgina's hub for technology and IT companies. Yet one of its businesses, Sundog Productions, is the only textile factory of its kind on the East Coast that can go from fabric to hanger, and it has located to a new and larger facility.
Sundog is celebrating the grand opening Saturday, June 1, of a 40,000-square-foot-plant at 3850 Jermantown Road that used to provide office and parking space for Verizon.
Sundog said in a press release that it's the only manufacturing plant in the city of Fairfax and in the surrounding region that uses green energy to power its production process and an eco-friendly dye used in the production of t-shirts. (Read More)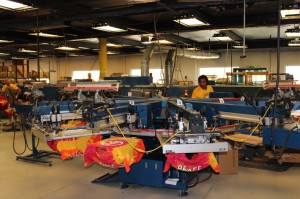 Main Street City News: Sundog Grand Opening
Sitting in a chair across the busy road from a one-story brick building on Jermantown Road, CAS Shiver saw a diamond in the rough. He had gotten the lead from a member of the City Council that the building was in the midst of being vacated and put up for sale.
It was good timing. Shiver was looking for a more permanent residence he could call home and preferred to stay in the local area. His custom tie-dye and screen printing textile factory was bursting at the seam, quickly outgrowing the old American Medical Laboratory building it had called home in the City of Fairfax since 2005.
The building Shiver was eyeing as a candidate for Sundog's new residence was nothing more than an open-air parking garage with a small front office. Shiver was undaunted; he had big plans for the structure. (Read More)