Custom Tie Dye
Sundog's master craftsmen create a variety of custom designs and color choices to enhance your artwork and increase your tie-dye options.
We have a large selection of tie-dyes to choose from, but if you do not see what you want, we can create a custom tie-dye specifically for your needs. Each shirt we create is hand folded and hand dyed to ensure quality and consistency. This consistency allows for the perfect screen print on each garment.
If you are unsure of what type of tie-dye will be best for your needs, our team of designers can work with you to create a pattern and color options, which will provide a better "canvas" for your artwork and really accentuate your screen-printed designs.
Don't let the name fool you into thinking you are limited to the rainbow swirls of the Sixties – your choices for a custom tie dye are nearly limitless.
Minimum for custom dye work is 48 pieces.
The graphic below will give you an example of some custom tie dye patterns and colors.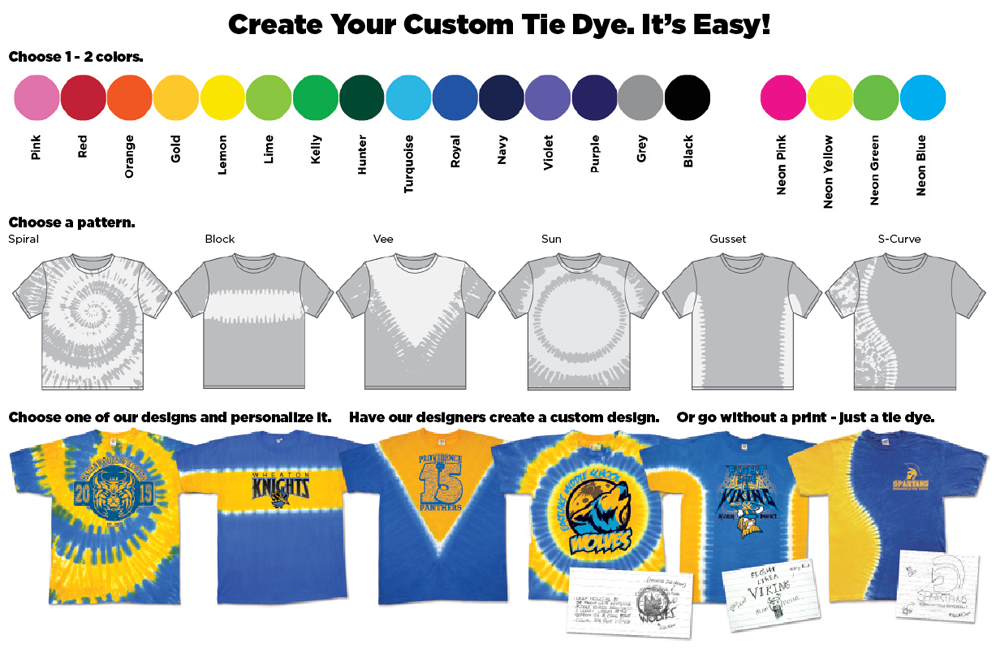 If you'd like to find out more or get started on your project we'd love to hear from you. Please contact John Sague at j.sague@sunpup.com or give us a call 703-978-0041.
We look forward to working with you on your next project.
Need just one tie dye t-shirt? Check out the Tie Dye Doodle app and you can create your own.

And remember we do much more than just tie dye – if your needs include pigment dyed shirts, regular t-shirts, ladies shirts, youth or juniors shirts, polo's, hoodies, outerwear, athletics, business wear and more, just let us know.